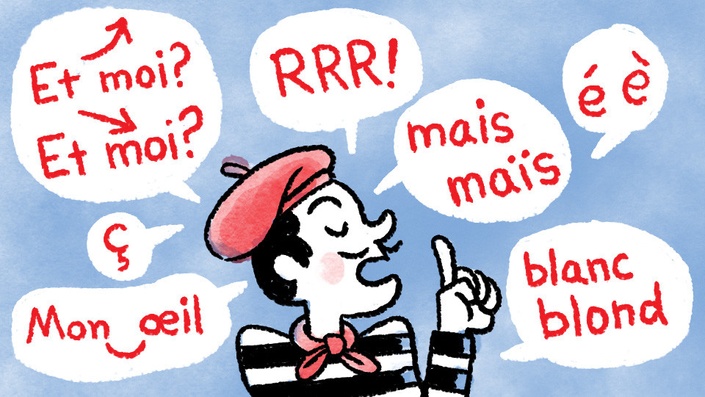 How to sound like a native French speaker
Everything you need to know about French pronunciation, intonation and rhythm
You're learning French and you're wondering how to SOUND more French. Look no further: this course is the ultimate guide to help you work on your French pronunciation and intonation!
HERE'S HOW:

To sound more like a native French speaker,
1. You need to be able to hear, say and read every French sound.
This will be covered in the first part of the course (Modules 1 to 4).
Here are actual questions from students that we will answer, among many others:
"How to read words like "fauteuil", "oeil", etc.? I never get it right no matter how much I say it!"
"How to make a nasal vowel sound?"
"How to differentiate the accent aigu é and accent grave è?"
"How to pronounce the French "U" and distinguish between "dessus/dessous"?"
"My biggest struggle is about pronunciation, especially the R sound, I can't get it!"
Now, if you want to sound like a native French speaker, being able to properly pronounce French words surely is a great start but still not enough...
In the second part of the course (Modules 5 to 7), we'll go deeper:
2. You must learn how to choose the right intonation for what you want to say and how to give the French language its unique rhythm and melody.
I'll also tell you all about the rules behind some common words which are pronounced differently depending on the context or their position in the sentence! Regional accents and casual spoken French can also affect the pronunciation of some words and expressions, so I'll go over these too in order to give you a better understanding of what you may expect to hear when in immersion with French.
Students have asked me:
"How do I learn the rhythm of the French language? Are there ways to learn the stress flow and rhythm of the French language?"
"I have some trouble with the liaison, when to and when not to."
"Do questions always have a rising intonation?"
"I have problems with the word "plus": I think sometimes you pronounce the "S" and sometimes not?"
If you've been wondering the same questions, you'll find a goldmine of useful tips!
---
AT THE END OF THIS COURSE, YOU WILL:
PART 1
know ALL the sounds of French language along with their different possible spellings (so you can read French easily)
find that you can pronounce most French words properly (exceptions and variations are presented in PART 2 of this course)
differentiate between sounds that your ear wasn't used to (for example the French nasals, or "u"/"ou")
know how to articulate/pronounce sounds that don't exist in English
be able to spell or write down anything (your name, your email address, a booking reference, etc.)
know when to pronounce or not pronounce the final consonant of a word or the letter "E"
know where to "cut" a French word properly
PART 2
know how to stress words and groups of words properly
be able to say or ask anything with the correct intonation
know which words have a pronunciation that changes according to the context...and how to get them right!
understand what a liaison is, when it is compulsory and when it is forbidden to make it
have a good insight of how French is casually spoken (sometimes what you hear may sound very different from the "proper" written French) and of how the accents change in the different French-speaking regions
---
LEVEL OF FRENCH / PREREQUISITES
The course is suitable from upper-beginners to more advanced students.

You can learn to nail your French pronunciation at an early stage in French learning or strengthen your existing knowledge and work on potential weak points. Trust me, there's always something you can learn, whatever your level is ;-)
Note: To make the most of lessons 6.2, 7.2 and 7.3, you need a basic understanding of the following grammar notions:
* understanding what are: a noun, a verb, an adjective, an adverb, a subject
* knowing the question words in French: "qui ?" ("who?"), "comment ?" ("how?), "quand ?" ("when?"), etc.
---
WHAT YOU GET WITH THE COURSE
Unlimited access to the course
28 lessons including:

Downloadable notes for the lessons
19 downloadable worksheets with over 60 exercises and their answers
downloadable MP3: over 5 hours of audio content!
24 videos (2.5 hours)
All lesson videos also available in audio format so you can listen again when you commute, do the dishes or drive your car!

Bonus #1: a downloadable list of tongue-twisters to practice all you've learnt and have fun!
Bonus #2: a downloadable list of links and resources to go the extra mile
Possibility to add comments and to contact me directly if you have any question
Possibility to send me a recording once you've completed the course to receive my personal feedback on your pronunciation!
Your money back should you not be happy with the course (within 30 days from purchase)


---
DETAILED COURSE OUTLINE
Introduction
PART 1
Module 1 - French vs English pronunciations (Introduction)
M1.1 - Pronunciation: the 5 main differences between French and English
M1.2 - The International Phonetic Alphabet (IPA)
Module 2 - Spelling in French: alphabet, accents and graphic signs
M2.1 - The French alphabet: pronunciation
M2.2 - French accents: acute, grave, circumflex, diaeresis ("tréma")
M2.3 - More punctuation and graphic signs
Module 3 - All the French sounds: how they are written and how they are pronounced
M3.1 - A list of all the French sounds (phonemes)
M3.2 - Final "E" and final consonants in French: should you pronounce them?
M3.3 - How to read words beginning with "in_"/im_" (+ a few other reading tips)
Module 4 - French sounds that are different from English - pronunciation rules and tips
Part 1 - French vowels and vowel sounds
M4.1 - "E": The different ways to pronounce the letter "E" in French
M4.2 - "U": How to pronounce the French "U" and distinguish between "bu/boue", "dessus/dessous", etc.
M4.3 - "Y: How to pronounce the letter "Y" in a French word?
M4.4 - The French nasals: pronunciation rules and tips to distinguish between "blanc, brun, blond", etc.
Part 2 - French Consonant sounds
M4.5 - "R": how to pronounce the French "R"
M4.6 - "L" and the [l] / [j] sounds: How to read words like "fauteuil", "conseil", "œil" etc.!
M4.7 - [k] / [s]: "Q", "C", French cedilla "ç", "S" (phonetic and spelling rules)
M4.8 - [g] / [ʒ]: "G" / "J" (phonetic and spelling rules)
M4.9 - [s] / [z]: single "S" vs double "SS" (phonetic and spelling rules)
M4.10 - Why is the "s" silent in "Mesnil", "Descartes", etc.?
Test yourself!
PART 2
Module 5 - French Liaisons
M5.1 - What's a liaison? (Definition)
M5.2 - The influence of the letter "H" in the liaison: mute H / aspirate H
M5.3 - When to make and when not to make the liaison in French
Module 6 - How to sound more French! (French Rhythm, Accentuation and Intonation)
M6.1 -Learn the rhythm of the French language (stress pattern/accentuation)
M6.2 - French intonation in questions and statements: rising or falling intonation?
Module 7 - To go deeper: Special pronunciation rules and variations
M7.1 - French numbers: special pronunciation rules
M7.2 - The 3 ways to pronounce "Plus" in French: [ply], [plys], [plys]
M7.3 - How to pronounce "Tous" in French: [tu] vs [tus]
M7.4 - Irregular French plurals with a change in pronunciation
M7.5 - Top 10 differences between written French and spoken French: How we actually pronounce things in real life!
M7.6 - French accents: regional variations
Test: Receive my feedback on your pronunciation!
Conclusion & Bonuses
a. Tongue-twisters
b. Resources: links & references
---
FREQUENTLY ASKED QUESTIONS
How is this course different from other courses?
I believe my course is the most comprehensive course of all that you need to know about French pronunciation, intonation and rhythm. It's both very detailed and presented in easy, gradual steps.
Also, you may have learnt some inaccuracies at school. For instance, you may have learnt that the intonation rises in questions and falls in statements. In my course, you'll discover that there's actually more to it than this! I'm not taking shortcuts in my explanations (and I don't believe that you're too dumb to be able to understand the full rule!)
Finally, this course is unique simply because I've put a lot of myself into it!
Does the course get into detail with every French sound?

All the sounds of the French language are presented in this course. However, Module 4 only goes more into details with the sounds that typically require more attention for English speaking students.
If you speak a language other than English, you will still benefit from these lessons. In addition, you may need to work more on other sounds. For example if you're a Chinese speaking student you may find [p]/[b] or [v]/[f] tricky ; these sounds are not developed further in this course because they are not a problem for an English speaker.
Please check out the detailed content of the course (above) for more information
Will I really sound like a French native speaker after taking this course?
I designed this course to give you a good awareness of all that comes into play when you want to improve your French accent. Once you've been through the course, implement all that you've learnt and practice, practice, practice. No one else can do it for you but you'll see results will coming with time and dedication - trust me! :-)
...Is this course for me?

You may know me from my podcasts (French Your Way Podcast and French Voices) or from the other resources I've published on my website (www.frenchyourway.com.au ). You'll love this course if you already enjoy my teaching style and explanations. I always strive to be as comprehensive and detailed as possible while at the same time not being overwhelming. My challenge and passion as a French teacher is to break down every notion into their simplest elements to make things easier to remember for you!
However, do NOT take this course if you expect to be speaking French flawlessly within minutes. This is not a miracle magic course!
In addition, this course may not be for you if you don't have enough time to dedicate to your French learning because it is quite exhaustive! I don't want you to feel frustrated because you don't have time to go over all the materials and exercises I designed.
How long does it take to complete the course?
The course should take you 2 to 3 weeks to complete if you dedicate yourself to do one lesson a day every day. A lesson may take you an average of 20-30 minutes to complete. I've kept them short and to the point as much as possible!
Because of the nature of the course (phonetics is quite specific and comprehensive), the content could be overwhelming if you try to do too much at once. What's more, you may need to go over some lessons and exercises a few times depending on how quickly your ear gets tuned to the language (this is also depending on your existing level of exposure to French language and sounds).
For all these reasons, the time spent on the course will vary among the students.
Your Instructor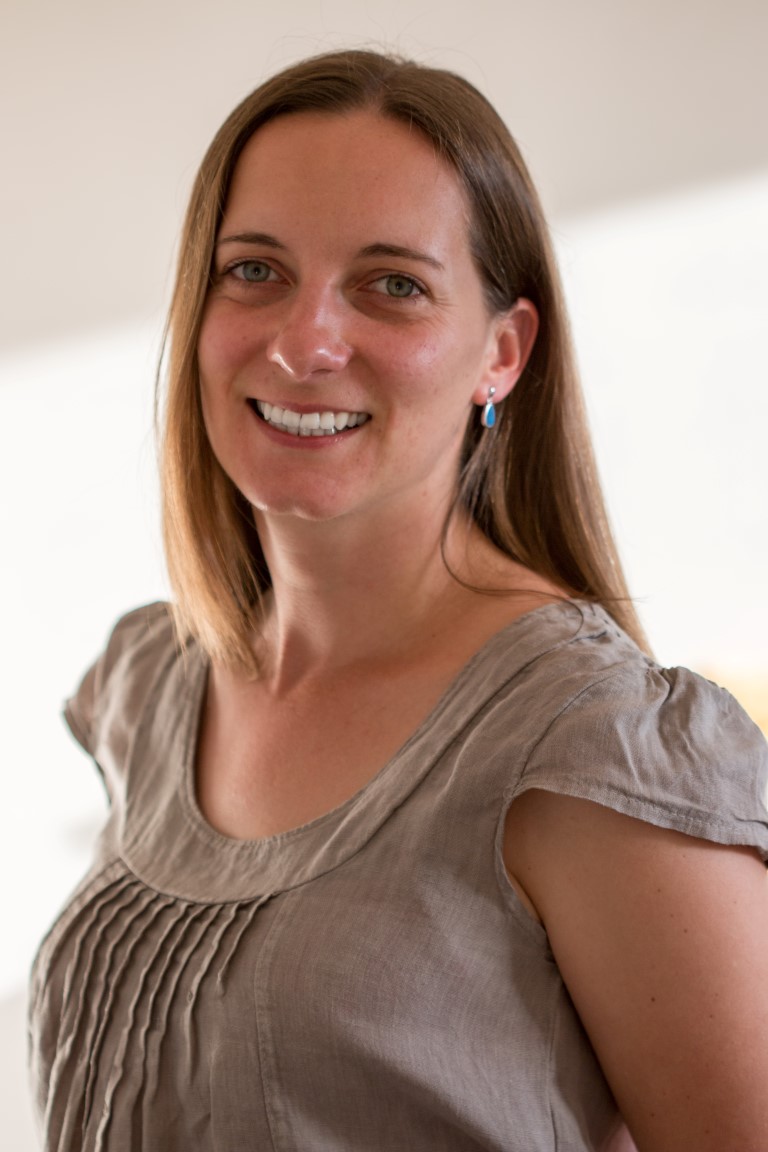 Bonjour! I'm Jessica, you may already know me as the host to French Your Way Podcast and French Voices Podcast ;-) I'm passionate about sharing my love of French language and culture with students worldwide.
When I was little, apart from becoming a trapezist-contortionist and the caring manager of an orphanage, I also wanted to be a food label code cracker…I was fascinated by the list of ingredients printed in many languages and particularly by the languages that I couldn't yet read because they were using a different alphabet or code. I vowed to myself that they would be no secret to me one day, and that's exactly why I came to study Russian in high school. I also studied Italian, German, Mandarin Chinese and Latin (although I hated Latin and it never really helped with my food label cracking).
Following my passion for languages, I qualified in English and then in Teaching French as a Foreign Language, which gave me the amazing opportunity to travel the world to work with hundreds of students in France, Ireland, Trinidad and Tobago and China.
I eventually settled in Melbourne Australia after meeting my now husband and created www.frenchyourway.com.au, where you will find many resources - podcasts, articles and tutorials to help improve your French!
Course Curriculum
Introduction / Welcome
Available in days
days after you enroll
Module 1 - French vs English pronunciations
Available in days
days after you enroll
Module 2 - Spelling in French: alphabet, accents and graphic signs
Available in days
days after you enroll
Frequently Asked Questions
When does the course start and finish?
The course starts now and never ends! It is a completely self-paced online course - you decide when you start and when you finish.
How long do I have access to the course?
How does lifetime access sound? After enrolling, you have unlimited access to this course for as long as you like - across any and all devices you own.
What if I am unhappy with the course?
We would never want you to be unhappy! If you are unsatisfied with your purchase, contact us in the first 30 days and we will give you a full refund.